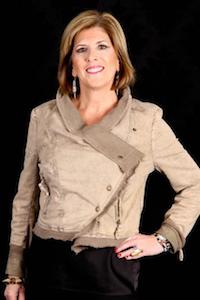 This is the third post in a series featuring North Carolinians discussing their love of Israel. Thank you Orna Drawas for participating!
What is your most memorable moment in Israel?
In Jerusalem one evening after dark, we happened to arrive at the Kotel as the IDF was holding their swearing-in ceremony. Hundreds of young men and women marched in with their battalion, and the plaza was packed with thousands of spectators – family, friends and visitors – to see the newest graduating soldiers of the IDF. The Israeli flag blew in the night and the eternal flames burned brightly as thousands sang a most beautiful and meaningful rendition of Hatikvah. Many of us were brought to tears by the emotions and significance of the moment.
Best food you had in Israel?
Believe it or not, when I think of mouthwatering foods in Israel, I crave the classic Israeli salad. Let's face it, you can't get real Israeli salad anywhere else in the world, because no place has tomatoes and cucumbers as fresh, juicy, sweet and delicious as they are locally grown in Israel. I savor every bite!
Favorite place to visit in Israel?
A hidden Gem known mostly by locals, hiking in the Negev is a great adventure with hidden canyons, cool springs and breathtaking scenery. The weather is great all year long and the night skies are absolutely mind-blowing. I like to hike the Negev, stay in an amazing bed and breakfast and try to capture a glimpse of the Bedouin life.
Which one is your favorite and why? Mediterranean, Sea of Galilee, The Dead Sea, The Red sea.
The Mediterranean Sea represents Israel to me. When I grew up in Tel Aviv in the 1960's, my family went to the (Mediterranean) beach nearly every Shabbat. We walked from our apartment, just a few blocks away, and spent countless hours with local family and friends eating, kibitzing, playing Matkot and swimming. That was our life.
Jerusalem or Tel Aviv and why?
Jerusalem. There is nothing like the Machane Yehuda Market (shuk) on a Friday afternoon. The amazing smells of fresh baked Challah, sweet cakes and a great variety of spices is nearly overwhelming. The hustle and bustle of orthodox men and women, combined with locals and tourists, adds to the intensity and excitement of the upcoming Shabbat celebration.
Orna Drawas was born in Israel to parents who emigrated to Palestine in the 1920's and were part of the early Zionist movement. Growing up in the US, her home was Israeli in culture, food and spirit. Author of the book: PERFORM LIKE A ROCK STAR AND STILL HAVE TIME FOR LUNCH, Orna is currently an expert in the field of corporate leadership.