Voice4Israel – North Carolina is a 501 (c)(3) non-profit organization promoting solidarity with Israel through education and advocacy. We are 600 members strong and growing. We are committed, respectful, diverse advocates for Israel.
Durham Singles Out Israel: A History in Articles
Durham Council Sued: Alleged Violations of Open-Government Law
Community Members Write the Durham HRC in Support of Draft
I Love Israel
Featuring local women
HRC Draft Report
Recommends Durham Removes Israel from Statement
Stay Updated with the V4I Blog
Interfaith Support of Israel
Beth El Synagogue's Rabbi Daniel Greyber, accompanied by dozens of Jewish guests, participated in an interfaith service at the River Church in Durham with Bishop Ronald L. Godbee. They discussed the shared spirituality, sufferings, and joys of the African American and Jewish communities. Bishop Goodbye spoke about the Durham City Council's recent attack on Israel – and by extension – the Jewish community, and how this hurts us all.
Singling Out Israel

at the Durham City Council
Watch the full symposium and distinguished panel
Singling Out Israel
Watch the
"Highlights Reel"
8/26/18 at the Durham JCC
The Mainstream Jewish Community Successfully Obtained a Special Subcommittee Hearing from the Durham Human Relations Commission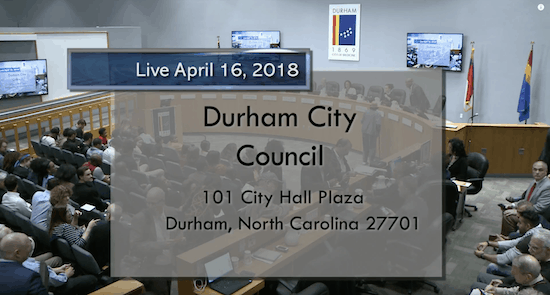 The Durham City Council Boycotts Israel: Public Records and Reporting
In April of 2018, Durham, North Carolina became the first city in the United States to boycott police trainings with Israel – the only Jewish majority country on the planet. No other countries were singled out or mentioned. As explained by the Mayor Pro Tempore of Durham, the City Council issued "a statement affirming a city policy against police exchanges with Israel." 
Bishop Ronald L. Goodbee
Watch Bishop Godbee's full talk at the 8/26/18 Symposium 

on the Durham City Council's Singling Out of Israel 
Elie Wiesel
"We must always take sides. Neutrality helps the oppressor, never the victim. Silence encourages the tormentor, never the tormented."
"The opposite of love is not hate, it's indifference."
"There may be times when we are powerless to prevent injustice, but there must never be a time when we fail to protest."