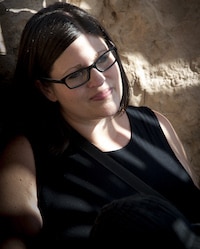 This is the second post in a series featuring North Carolinians discussing their love of Israel.
What is your most memorable moment in Israel?
Hands down this would be my first Shabbat in Jerusalem. Truly having a day of rest and then watching the city come alive after Havdallah was amazing. Walking down the street as the sun was setting and slowly watching lights of the local restaurants turn on and people coming out into the street.
Best food you had in Israel?
Breakfast and for someone that doesn't care for breakfast food that says a lot! All the fresh fruit and cheese and breads, just make it a great start the day!
Favorite place to visit in Israel?
Beresheet Hotel in Mitzpe Ramon. The most beautiful place in the world. I went segwaying there and I felt like the world could just go on forever.
Which one is your favorite and why? Mediterranean, Sea of Galilee, The Dead Sea, The Red sea.
Dead Sea! I love playing in mud, so being at a place where as an adult it is encouraged to cover yourself in it, is up my alley.
Jerusalem or Tel Aviv and why?
Both! Jerusalem provide a snapshot into history and a pathway to explore and experience Judaism in a way you can't do anywhere else. Tel Aviv provides a space where you can experience food, nightlife, technology, like no other.
Jill Madsen was born in Minneapolis, Minnesota and lived there until she moved to North Carolina three years ago to serve as the CEO of the Jewish Federation of Durham Chapel Hill. She has her Bachelors, Masters, and Doctorate degrees in Education. She spent over twenty years working in education – both as a classroom teacher and in leadership roles. Prior to moving to NC, she served as the Director of Education and then the Chief Operating Officer at the Sabes Jewish Community Center in Minneapolis.