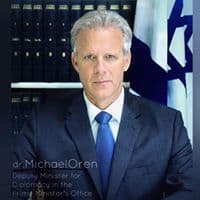 The Most Realistic Peace Plan Since 1993
The Two Nice Jewish Boys podcast, in collaboration with the Jewish Journal, interviewed Dr. Michael Oren about the newly released White House peace plan. Oren, a former member of the Israeli Knesset and Israeli Ambassador to the United States, is a well-respected historian who has been intimately involved in the peace process since 1993 when he was an advisor to Prime Minister Yitzhak Rabin during the Oslo Accords. Listen to the full interview below. 
During the conversation:
Oren highly criticized the "Peace Lobby" for accepting for decades that the 1967 borders were "sacrosanct," that the Palestinian leadership need not recognize Israel as a legitimate state, that the Palestinian's had "the Right of Return" to Israel (meaning Israel would cease to exist), that the Palestinian Authority would pay terrorists and increase the payments per Jews killed, that Palestinian leaders and society would teach children it was permissible to murder Jews, etc.

 

Oren emphasized this same group, having failed miserably for decades, is now reflexively attacking the 2020 Peace Plan without giving it any serious consideration.

 

Oren observed, "The Palestinians have rejected every two-state solution going back to 1937." Oren then reviewed the numerous statehood offers the Palestinians rejected and then initiated "large scale violence."

 

Oren reported that the 2020 White House Peace Plan is significant because "it is the most realistic plan I have seen since 1993…It most reflects realties on the ground." The 2020 Peace Plan recognizes that the Sunni Arab world seeks alliances with Israel against Iran and is impressed by how the current White House has stood up to Iran in multiple ways. The Middle-Eastern Arab countries are frustrated with Mahmoud Abbas, who is now in the 16th year of a 4-year term. He is corrupt and stolen hundreds of millions of dollars of aid which was meant for the Palestinian people. Countries in the region are now keen to work with Israel in areas of technology, energy efficiency being one prime area.

 

Oren reports that the 2020 Peace Plan is a significant and realistic step towards peace. It provides a path to Palestinian statehood, territorial contiguity for Palestinian territories, fosters major economic development for the Palestinians, and foresees a Palestinian capital in East Jerusalem. It also rejects the uprooting of hundreds of thousands of Israelis, rejects the dividing of Jerusalem, and confirms Israel's security needs.

 
This summarizes only the first nine minutes of a much longer conversation. Listen to the entire interview with Dr. Michael Oren here. 
This is Voice4Israel's second post on the 2020 Peace Deal. Read the first post here. 
Voice4Israel advocates love and support of Israel whether it comes from Democrats, Republicans, Independents, Progressives, or others. Voice4Israel is non-partisan. While tensions are high in this country, we hope and ask that all sides — Democrats, Republicans, and everyone else — work together to support a path forward towards peace between Israel and the Palestinians.