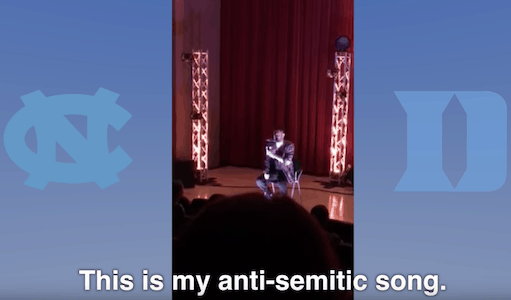 The UNC and Duke Departments of Middle East and Islamic Studies cosponsored an Israel-bashing conference, camouflaged as a conference on Gaza, March 22-24, 2019. Read all about this Israel-hate conference here. 
Following the conference, anti-Semitic posters have appeared on UNC's campus which is being investigated by the police. 
Now a video has been published documenting blatant anti-Semitism at this conference. The audience is shown cheering as a musical act sings his self declared "anti-Semitic song."
Chancellor Guskiewicz:
I am writing to you as a long time employee of UNC (now retired) and a parent of an alumnus. I am Jewish.
I am deeply concerned about the recent antisemitic acts at UNC. But I am not surprised. UNC's tolerance – and even sponsorship – of speakers and conferences on campus that are blatantly anti-Israel and in some cases, openly antisemitic have fostered an atmosphere that promotes this type of activity. (If you have not seen the video of the concert on the first evening of the Gaza Conference, I urge you to take just a few minutes to view it.
It is disgraceful that UNC would allow, and actually sponsor, programs that would not be tolerated against any other minority group.
Many Jewish community members wrote letters to you and to the Board of Governors prior to Linda Sarsour's talk at the School of Public Health and to the Gaza Conference pleading that these activities be cancelled or at least balanced by a pro-Israel speaker, but these were totally ignored. Unfortunately much damage has now been done.
Students who attended the UNC Conflict Over Gaza Conference did not hear  academic debate and scholarly inquiry, but were exposed to days of academic activism  and indoctrination against Israel. Whatever happened to balance and unbiased education?
I implore  you to work with UNC's administrators to develop policies that prevent the continued biased,  unbalanced, academic attack on Israel and the Jewish people.
Sincerely,
Marcia Harris