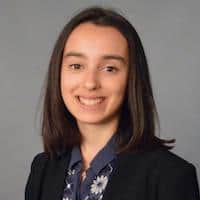 This is the sixth post in a series featuring North Carolinians discussing their love of Israel. Thank you Natalie Ecanow!
What is your most memorable moment in Israel?
On my eighth-grade trip to Israel, my class davened the Kabbalat Shabbat service at the Kotel during our time in Jerusalem. Welcoming Shabbat through raucous song and dance with seventy of my peers against the backdrop of the setting Jerusalem sun is something that I will never forget.
Best food you had in Israel?
The best food I had in Israel would, hands down, be frozen yogurt in Tel Aviv. Piled high with fresh fruit and Israeli delicacies, I once drove from Jerusalem to Tel Aviv just for froyo.
Favorite place to visit in Israel?
Nachalat Binyamin Market in Tel Aviv. I could spend hours strolling up and down the street browsing the work of Israeli artists and craftsmen.
Which one is your favorite and why? Mediterranean, Sea of Galilee, The Dead Sea, The Red Sea.
The Dead Sea. Floating in the Dead Sea is an experience like no other!
Jerusalem or Tel Aviv and why?
Tel Aviv. The vibrancy and innovative energy of cosmopolitan Tel Aviv is a testament to the strength and influence of the modern State of Israel.
Natalie Ecanow is from Chicago and is a sophomore at Duke intending to major in political science and minor in Middle Eastern studies. She attended Jewish day school and high school and became actively involved with AIPAC during high school. On campus, she continues to be involved with pro-Israel activity through DIPAC—Duke's student AIPAC group.